MULTISENSORIALITY AND PERFORMANCES FOR YOUR STORES, FINALLY MEASURABLE
We integrate and synchronize audio, video, lighting and fragrances to offer an even more immersive and engaging customer experience. Through advanced analytics systems we collect data and dynamically adapt multimedia content based on the target detected in the store.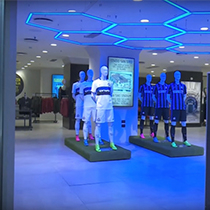 San Siro Store
A Top Level Store that integrates Radio In Store, Digital Signage, Fragrances and Lighting Control, managed by mediaSync, our "director" for in-store multisensory experience. In addition, the staff can select Inter, Milan or No Match Day theme scenarios.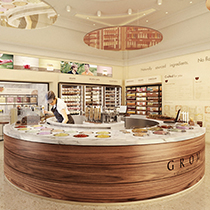 Grom Piccadilly
Immersive and tech-oriented stores that integrate Audio, Digital Signage and RGB LED lighting control. In addition, "On Demand" function to control different multi-sensory scenarios through 10 "displays.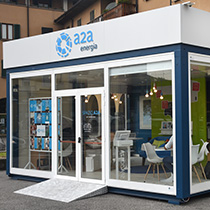 A2A Energia
A project in partnership with Realtà Group, developed for the "moving" Temporary Stores of A2A Energia, with a system for queue management, supplemented by tools for the evaluation of Customer Satisfation. In addition, external People Counting and internal Biometric Analytics, to monitor the performance of Temporary Stores in different urban locations.
More
Integration
Multimedia tools developed for points of sale, brought to the maximum effectiveness, thanks to a combined In Store management. Solutions designed to be integrable or to integrate third-party tools and services.
Engagement
Immersive scenarios for an engaging experience that pulls customers into a dimension made up of entertainment, information and promotional messages, giving life to a dynamic reality with a strong emotional impact.
Customization
From measurement to real time management of multimedia scenarios. Only through an advanced shopping experience management system the store is really built around the customer.