MULTISENSORIALITY AND PERFORMANCES, FINALLY MEASURABLE
We integrate and synchronize audio, video, lighting and fragrances to offer an even more immersive and engaging customer experience. Through advanced In Store Analytics systems, we increase the efficiency of sales processes and dynamically adapt multimedia content to the target detected in the store.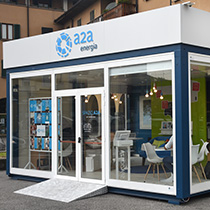 A2A Energia
A project in partnership with Realtà Group, developed for the "moving" Temporary Stores of A2A Energia, with a system for queue management, supplemented by tools for the evaluation of Customer Satisfation. In addition, external People Counting and internal Biometric Analytics, to monitor the performance of Temporary Stores in different urban locations.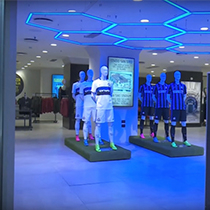 San Siro Store
A Top Level Store that integrates Radio In Store, Digital Signage, Fragrances and Lighting Control, managed by mediaSync, our "director" for in-store multisensory experience. In addition, the staff can select Inter, Milan or No Match Day theme scenarios.
More
Measurement
People Counting, Queue Management, Heatmap and Face Recognition to support decision-making and sales processes, and to maximize the performance of In Store communication.
Engagement
Knowing to Engage: we create immersive scenarios for a Retail Experience that brings store visitors into a dimension that mixes entertainment, information and promotional messages, giving life to a dynamic reality with a strong emotional impact.
Integration
Solutions for in stores communication and measurement, brought to maximum effectiveness, thanks to a single "In Store Director". Each tool is designed to be integrated with third-party services, for a connected and performing system.